Mini Moo to Imtech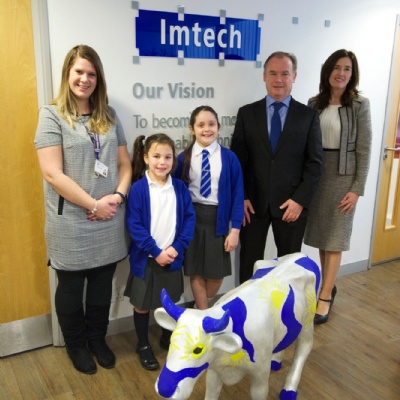 On Monday 9th January, we presented our 'mini moo' to Imtech, based in Ashford High Street, who were kind enough to sponsor us. Mini Moo is a Surrey wide art project that we took part in last summer and involved our children decorating a model of a cow that could then be displayed in a location around Surrey.
Students from Year 2 and Year 6 were accompanied to Imtech offfices by Miss Lester, Art Subject Leader and this is what the children had to say about the visit: 'We looked a bit strange carrying a life size cow model through Ashford High Street to the Imtech office! The staff at Imtech were impressed by the cow and mentioned how they liked how the school logo was included. We enjoyed visiting their office and hope they like having Echo the cow in their Reception!'
The Mini Moo will stay with Imtech until the summer when it will return to Echelford to go on display. We would like to thank Imtech again for their generosity in sponsoring us.