Year 4 Animal Visit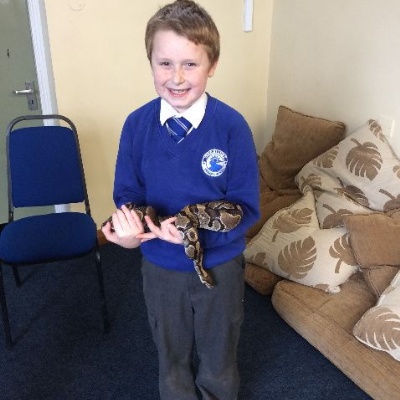 Who was brave enough to hold the python?
On Wednesday morning this week, the children in Year 4 kick started their Science topic - Living Things and Their Habitats - in the most exciting way. As they ventured over to the community room, they could hear unfamiliar noises.
They were greeted by a confident, "Hello" from Bobby the blue and gold macaw from the African Rainforest. Across the morning, the children were given the opportunity to see and learn about a
wide range of animals: a parrot, a chinchilla, a Russian duck, rabbits, hedgehogs, frogs, cockroaches, millipedes, a bearded dragon and a snake. With great curiosity, the children asked and answered questions linked to classification and habitats to help them with their Science learning.
Not only that, the children also got to experience handling the animals; some children bravely chose to hold the royal python and others were courageous when they had a bearded dragon or chinchilla placed on their head. The pupils were incredibly mature and very grateful to our visitors for helping them with their learning in such an engaging way; well done, Year 4.
What the children had to say........
"Two ladies visited Year 4 with lots of different animals. They had a snake with them and we were allowed to pet and hold the scaly snake. This was my favourite part of the visit." Stuart 4R
"The animal visit was great because we found out that snakes only eat one or two times in two weeks. We also found out that if a chinchilla gets wet, its hair will fall out." Lara 4A
"It was an excellent experience, especially because we gained more knowledge to help us with our Science learning." Paulina 4D