New Echelford Library opening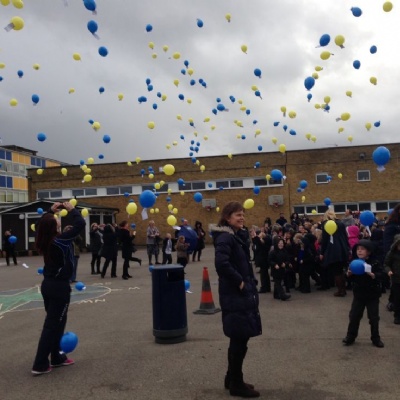 Balloons mark exciting times ahead
The flight of 600 blue and yellow balloons marked the opening of our new Library on Tuesday 28th January 2014. The Library was officially opened by Mrs. Wendy Kislingbury, the Chair of Governors, ably assisted by the Head Boy and Head Girl of the school, Mason Hancock and Nicole Watkins, in a small ribbon-cutting ceremony before the whole school joined together on the playground to release balloons together. Despite the wind and rain, very few balloons escaped before the countdown and cheers erupted as the mass of balloons filled the skies. Each balloon held a paper message to any finders, asking them to email the school with their location and their favourite book. These replies will form part of a library display to mark the occasion.
The new Library is indicative of the changes afoot at The Echelford Primary School. Partially funded by the PTA and only achievable with the hard work of all staff members and parent volunteers, it highlights the determination of the new leadership team both to raise standards and to work positively with all members of the school community to build strong and positive relationships . Having become part of the Lumen Learning Trust in October 2013, the Echelford Primary School now has academy status, together with its sponsor school, Saxon Primary, in Shepperton. The school is led by Mrs. Sarah Vernon, whilst the Executive Principal of the Trust is Mary Ellen McCarthy, former Headteacher of Saxon and a National Leader of Education.
The Library opened to the children on Wednesday. No doubt there are many enjoyable hours ahead of them as they begin to read the new books on offer and no doubt their favourites will change. Time will tell where the final recipient of a balloon will be and what favourite childhood book they will choose to share.