Rhyme Rocket visit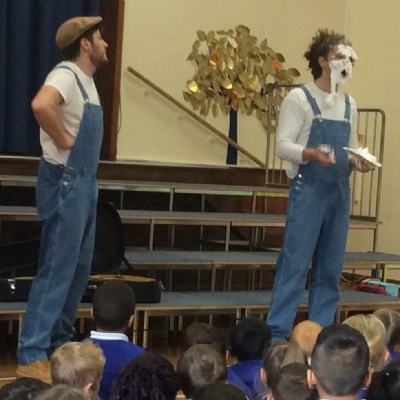 Inspiration through rhyme and poetry
On Wednesday 29th November Joe and Andrew (First Officer Ditty and Professor Poet), as seen as on CBeebies' 'The Rhyme Rocket', joined us for an exciting and interactive literacy morning. They ran live performances of rhyme, poetry and song with the aim of developing language and inspiring writing for our EYFS, KS1 and Year 3 children. All the children were engaged in the show and some even volunteered to take part. The hall was full of energy and laughter throughout, followed by question time with the characters in their classrooms.
Reception children were inspired by the visit which showed in the wonderful poetry writing they subsequently completed. This is RH's class poem –
When we try we mustn't cry,
We work so hard we reach the sky.
We fly really high when we try.
In Year 1 Noah said, "The visit was really funny. Andy was very silly - he got a cake in his face! We were learning about rhyming words in the show. This week in our Literacy lessons we have learnt more about rhyming words, poems and we have even been writing our own poems. I wrote my own acrostic poem and I practised reading it out loud to my class. It has been a really good week and lots of fun!"
Year 2 thoroughly enjoyed the hilarious Rhyming Rockets performance and were keen to show off their rhyming skills back in the classroom. Across the year group they explored rhyme in a variety of exciting ways. Working as detectives they went on the hunt for rhyming pairs, performed rhyming poetry and wrote their own silly rhyming sentences. Taking on board everything they had learnt, they wrote their own poems in order to enter a competition run by the Premier Football League. They also explored the topic of resilience, looked at how important it is to never give up and used this to write their own pieces. Year 2 wonder if any of them will be lucky enough to win!
In Year 3, Bobby and Henry said, "It made our Monday morning so exciting! The show was very funny and we couldn't stop laughing. It was a great memory we won't forget!" Year 3 children also used the learning from the workshop to create their own poems about 'Resilience', remembering these and adapting them to fit in with the theme.