Big Art House Competition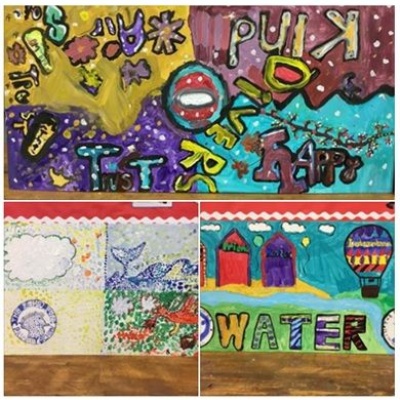 House teamwork put to the public vote
Throughout this week we have been exploring a range of different artistic styles and techniques as part of our house competition.
Our School Council led a fantastic afternoon yesterday; children from across the whole school came together to take part in creating a big piece of art in their houses. Additionally, every child within the school spent time creating their own piece of artwork in the style that their house was given: Air - Graffiti, Fire - Aboriginal, Water - Aztec.
Each piece of art was designed around the theme 'Echelford'. Photographs of our big art went live on our Facebook page inviting our followers to votes for their favourite by 'liking' their preferred image.
The response to the public vote was fantastic with over 300 votes cast in total. The winning house of the big art competition was Air with a fantastic 133 votes, pictured above, top. We would like to thank all of you that took part in our interactive vote via Facebook, your participation was a fanatstic way of sharing the talents of the children with our school community.