Echelford Football Cup Champions!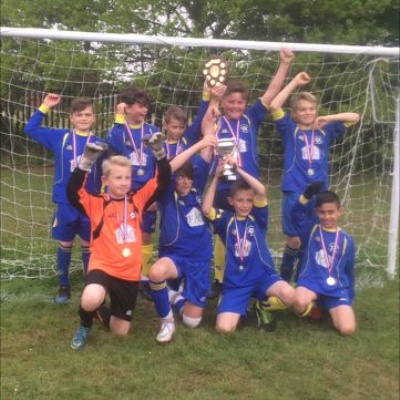 Wallage Cup winners for 2017
On the afternoon of Tuesday 2nd May, our Boys' Football Team took part in the Wallage Cup Final against Ashford C of E Primary. The nerves settled soon after kick off and the boys played some stunning football, supporting one another brilliantly. We had most of the possession from the start, and after what seemed like endless chances, they finally managed to score.
Excellent teamwork and supporting play led to a further six goals, with many other chances from the boys coming close to scoring. Fantastic defensive play resulted in us keeping a clean sheet, with an outstanding final score of 7-0! Congratulations, boys - we are all very proud of you!
Thank you to those who came to support the boys on day, including parents, Mrs. Holman and Mrs. Vernon - all of whom were impressed with the skills and sportsmanship you displayed.
The Team on the day comprised: Albert Adaway, Luke Davies, Ethan Gold (1), Bobby Martin (1), Beau Muldowney, Rian Patel, Joseph Potter, Presley Slade (1), Freddie Woods (4).
Our thanks also go to Mrs. Boswell and Mr. Waters for their management of the team and an excellent end to the season.