Year 5 trip to PGL Liddington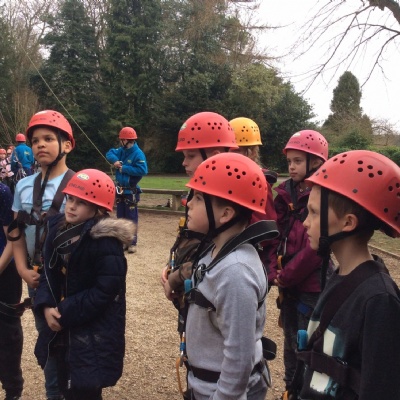 On Monday 6th March our Year 5 children departed for a week long trip to PGL Liddington. Read their exciting account of the trip here!
Last Sunday, everyone went to bed filled with anticipation for the exciting week ahead. Monday was a busy morning for lots of our peers in Year 5 - PGL had arrived! We grabbed our suitcases and set off for school. As we arrived, our luggage was put in the gym and we said our final goodbyes to begin the busy days ahead. We chose a travel buddy and those pairs were the ones you were in for the journey. When are coach arrived, we all had mixed emotions, feeling excited and nervous at the same time. However, we put a broad smile on our face to be going on such a great adventure. Over sixty children went so the journey was filled with laughter and thoughts about our planned activities.
When we reached our destination in Liddington, we felt a bit drained but desperate to see what was on the other side of the door. After we got settled in we were introduced to our group leaders Billy and Mads. They welcomed us into our new home for the week! Next we set off for our first activity. We were put in groups of about ten and we all had different schedules. Some of the activities included: a challenge course, tree top study trail, zip wire, raft building and a giant swing! We all enjoyed these activities. In the evening we had other activities like: cluedo, splash, wacky races and spotlight. We had meal times with our whole year group and even though some of us thought choosing food we liked would be tricky, we were wrong - it was amazing. Our school was praised from PGL staff for positively supporting our team members and pushing our own boundaries to meet new challenges throughout the week!
Friday came quick and before we knew it was time to go home. We didn't want to leave as we had such a blast. Before we left, we went to the tuck shop for the last time and most of us brought loads of sweets and goodies for our families. We would recommend the residential to everyone as so far this has been the best trip ever. Year 5 gives PGL Liddington a 5 Star rating!
Written by Abigail Bye and Sam Parker.
To view our photo gallery of the trip please click here.