Reading
Learning to read and write at Echelford in Reception and Year 1
In the first instance, we teach your child how to read and write using phonics. Phonics is a method of teaching children to read by linking sounds (phonemes) and the symbols that represent them (graphemes, or letter groups).
At Echelford, we use the phonics resource 'Little Wandle Revised Letters and Sounds' to help your child learn. It aims to build children's speaking and listening skills in their own right as well as to prepare children for learning to read by developing their phonic knowledge and skills. It sets out a detailed and systematic programme for teaching phonic skills for children starting by the age of five, with the aim of them becoming confident readers on age appropriate books by the end of Year 1. Whilst phonics plays an important part in our Reception and Year 1 classrooms, it continues to be applied in Year 2 and throughout their journey at Echelford.

What does reading look like at Echelford?
In all year groups children have daily reading group sessions where they have the opportunity to read with their class teacher and teaching assistant. During these sessions, children will have the opportunity to develop their understanding, improve their vocabulary knowledge and grow their love for literature.
In Key Stage 1, children bring three books home every week which will be matched to their phonics ability. In Key Stage 2, as children develop their independence they will change the books as needed.
All children will have a weekly library session where they will be able to bring home a book to share and enjoy with parents/carers. Children may not be able to read this independently and may need a parent/carer to read this to them so they can enjoy the story and foster their love of reading and listening to stories for pleasure.
All classes will have a daily story time session and Reception and Year 1 also have daily rhyme time. This may be a book they have chosen as a class, continuing with a power of reading text or one of their year groups 'Must Reads'.
All children will have a reading diary and this will include reading developmental comments from staff in school. We encourage you to sign your child's diary daily so we can monitor progress carefully; this enables us to have a good picture of your child as a reader.
Reception & KS1 video example
KS2 video example
Reading with your child
Reading with your child can be hugely rewarding as you see them grasping how reading works and engaging with books. We see our children grow in confidence until they are reading independently and making their own reading choices. Of course, sometimes reading with a child can be harder work - if they find it difficult or can't seem to engage with reading. We have listed our top tips below:
1. Make reading part of your daily routine.
For example, when we are ready for bed we have reading time - you read from your reading book to me and then I'll read you a story. This needs to happen every day otherwise your child will become an expert negotiator in using this time for something else.
2. Take the pressure off.
If they're struggling to read today you could:
Be word hunters - as them to spot a certain letter/word on the page as fast as they can and point to it.
Take it in turns to read a line / sentence - when it's your turn put expression into it and make it sound fun, model 'sounding out' words and being pleased with yourself when you get it right!
Choose a book they've read before and read from this one instead
Choose an easier book and have them read it to a younger sibling / pet / teddy.
Read to them and ask questions about the story so they're still engaging from the text without actually having to decode the words themselves.
The key thing is there is always time set aside for reading.
3. Make sure the book they're reading is engaging for them.
Do talk to their teacher if they have strong reading preferences and they'll do their best to pick books to tempt them.
4. Make the experience as fun / cosy as possible
Read in bed or a comfy chair and make sure that for ten minutes or so they have your undivided attention.
Get excited about the book they've brought home.
Talk about the pictures too -do this before starting to read the words. 'Oh I can see Biff has a key in her hand - I wonder where they're going this time?'
Get excited about the words they get right - 'well done, you sounded it out / you blended it and got the word right / you didn't even know that word last week and now you've got it!'
Don't worry about what they're not getting right so much. It's ok to say 'try again / you got these sounds right but try this one again / I'll read this word as it's tricky / you do the start sound and I'll do the rest.'
Share their achievements with the rest of the family so they know how proud of them you are.
Don't stop reading stories to them even when they're reading themselves
5. Come into school and ask for help if you need it.
We love reading and we want to share that love with you and your child. We know it's sometimes hard and we have lots of ideas and support to offer if / when it gets tricky.
Video Examples by Year Group
Reception
Year 1
Year 2
Year 3
Year 4
Year 5
Year 6
Reading Vipers
What are VIPERS?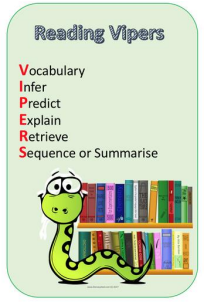 VIPERS is an anagram to aid the recall of the 6 reading areas as part of the National Curriculum. Each of the letters stand for one of the key reading skills that enable our children to become strong, confident readers. All children will be working on VIPERS during class reading, whether it is reading as a class, in a small group, or one-to-one with an adult. It would be fantastic if parents could also refer to VIPERS when they listen to their child read at home.
VIPERS posters are displayed in all classrooms. Up to the end of Year 2, the 'S' stands for 'Sequence'. Once children move into Year 3, the 'S' stands for 'Summarise', which is a more demanding skill.
VIPERS can be used on any text that a child is reading. When any adult is listening to a child read, all they have to do is think of questions about the book that cover the VIPERS. Below, there is an example of how you can create your own questions for a picture book and a longer text. Please see the KS1 and KS2 Vipers attachments at the bottom of this page.
For more ideas on how to help your child with their reading please visit Oxford Owl using the button below: