Events
On this page information about local events for families and children with Special Educational Needs and Disabilities can be found. This will be updated with information events, workshops and extra-curricular clubs that can be accessed in the local area.
National Autistic Society autumn workshops (course and booking information in the attached pdf below).

SEND parent carers; help to change the SEND system in Surrey by attending a workshop.
Surrey County Council, Family Voice Surrey and partner organisations are looking for parent carers to take part in workshops, to share their experience and expertise in order to co-design key elements of Surrey's SEND graduated response and work towards a SEND Profile of Need with guidance. This will provide a transparent framework to identify children's additional needs as early as possible, and to identify the responses and interventions required to meet those needs.
The outcome of these workshops will be a toolkit for all Surrey professionals and parent carers, known as the SEND Profile of Need and accompanying guidance.
For more information about these workshops, please access the Surrey Local Offer through the link below.
https://www.surreylocaloffer.org.uk/kb5/surrey/localoffer/advice.page?id=Pt5zg499RSA
NAS Pre-diagnosis Workshops
Are you a family waiting for a diagnosis of Autism? The flyer below gives details on the support available to you.
Surrey Short Breaks
www.surreycc.gov.uk/shortbreaks - This service offers short breaks and clubs to families and children who have an additional need and require support to access social, play and leisure experiences.
White Lodge Holiday, After School and Weekend clubs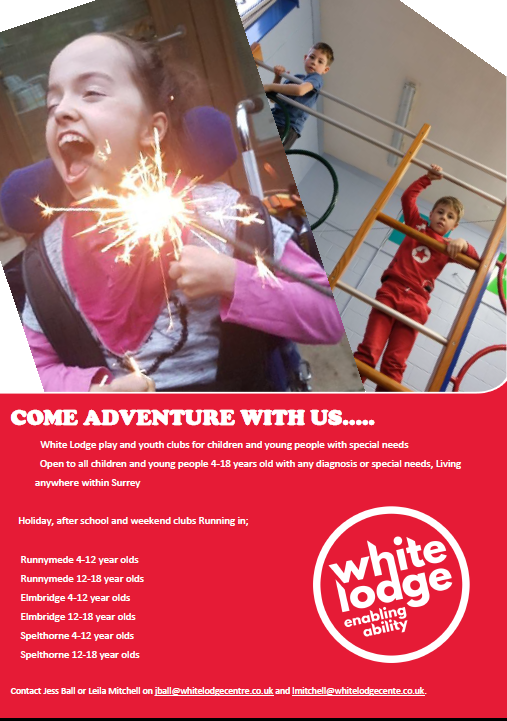 ADHD Spelthorne UK Support group flyer (below)