Spelthorne Junior Quiz 2017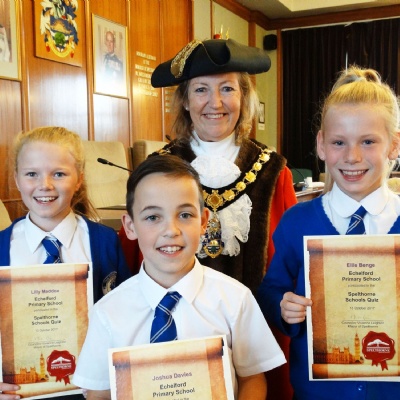 Team work and positivity at the Council offices
On Friday 13th October, our Head Boy, Head Girl and one of our Senior Prefects visited the council offices at Knowle Green to take part in this year's Spelthorne Junior Quiz.
Prior to the event, all three children had worked hard to research information about the borough that might be required during the day.
The event begun with an introduction from the Mayor of Spelthorne, Vivienne Leighton, followed by an open debate around the motion: Fast food should be limited to one meal per person, per week. Keen to have their say, all three children shared their views with confidence during the debate using their personal microphones.
After a short break, the quiz was underway with a number of rounds which stretched and challenged the children's mathematical, literary, historical and general knowledge. The children displayed fantastic teamwork, positivity and determination throughout the event.
It was a tough competition with 11 schools taking part in total. Due to the hard work of our Echelford pupils, they ranked 5th overall with only 8 points between them and the overall winning school. Congratulations go the children who took part for their fantastic efforts on the lead up to and during the day. Thanks also to Miss Redman who accompanied and supported the children.